Never in a million years had I thought I would be teaching technological knowledge with students. Me? A communications graduate?
As the Program Associate in Arus Academy's Agents of Tech programme, I have not only learned valuable insights regarding the digital industry, but also taught these to thousands of students. Our hope is to inspire students, especially girls, to develop an interest in technology and perhaps choose careers in the industry someday. The gender gap in technology must be closed.
So we designed Agents of Tech in collaboration with MasterCard and the Ministry of Education's digital learning platform, Digital Educational Learning Initiative Malaysia (DELIMa). Our self-paced online programme is integrated with comics, quizzes and interactive graphics with modules aligned to the International Society for Technology in Education (ISTE) Standards.
Students become 'agents' and follow a comic character named Agent Aliya to discover cool topics such as:
Cryptology

:

Students are exposed to positive, safe, legal and ethical behaviors for using technology including social interactions online.

Detection

: Students learn to manage their personal data to maintain digital privacy and security while being aware of data collection technology that can track their navigation.

All things digital

: Students evaluate the accuracy, perspectives and credibility of media and information.

Big data:

 Students learn how automation works and use algorithmic thinking to develop a sequence of steps to test automated solutions.

Artificial Intelligence (AI) for Social Good:

Students learn about data collection, data sets and use digital tools to analyze and represent the data to solve problems and make decisions.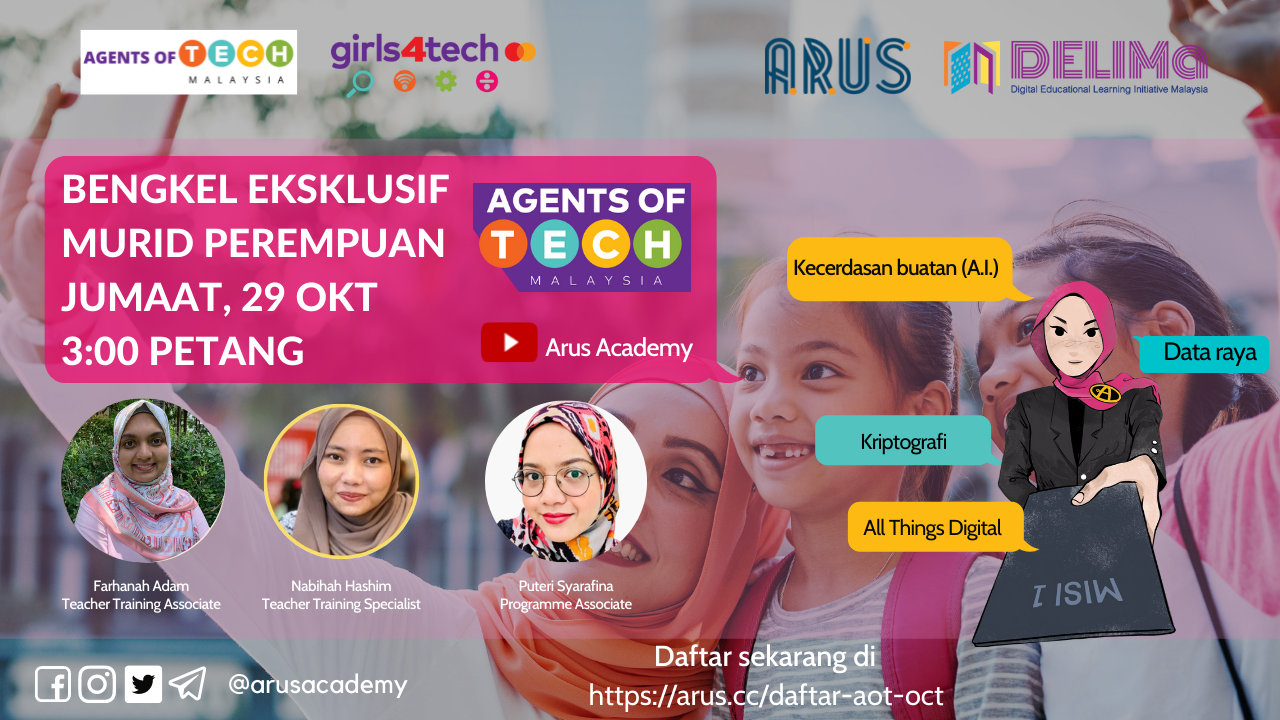 By completing five missions based on the topics mentioned, students receive a national level e-certificate. What's best, the course is available in English and Bahasa Melayu and is completely FREE!
Students have the opportunity to complete the missions at their own pace and convenience, but we do have excited learners who manage to complete all the missions within a day. Aren't they awesome?
Agents of Tech is open to all students but our core focus is on female students as the program is also designed to empower girls and women participation in the digital industry. We are targeting to have at least 3,000 girls enrolled by the end of 2021. Pssttt… help us tell a girl about Agents of Tech today, will ya?
Girl Power in Tech
My experience with students during the live workshops has been incredible, eye-opening and definitely something to cherish. Students from all over Malaysia gathered together to learn something new and competed excitedly to be the best in their quizzes. They were supportive of each other and were brave to speak up and give opinions. I noticed that having more girls in the session also creates a safe space for them to talk and feel less self-conscious.
"I think this program needs to run continuously. We need to have more such programmes to encourage the younger generation especially girls," said Agent Khairunnisa Adriana Bt Abd Razak from SMK Dato' Sheikh Ahmad, Negeri Sembilan.
After we taught students about token encryption in Mission 1: Cryptology, a student told us:
"I write my e-diary everyday but my sister always looks at it and I will get angry. So with the knowledge I learned from tokenization, I can create a stronger password that is more secure with varieties of emojis. I can finally write my diary with ease now," Agent Genevieve Low from SJK (C) Han Chiang, Penang said.
Way to go, girl!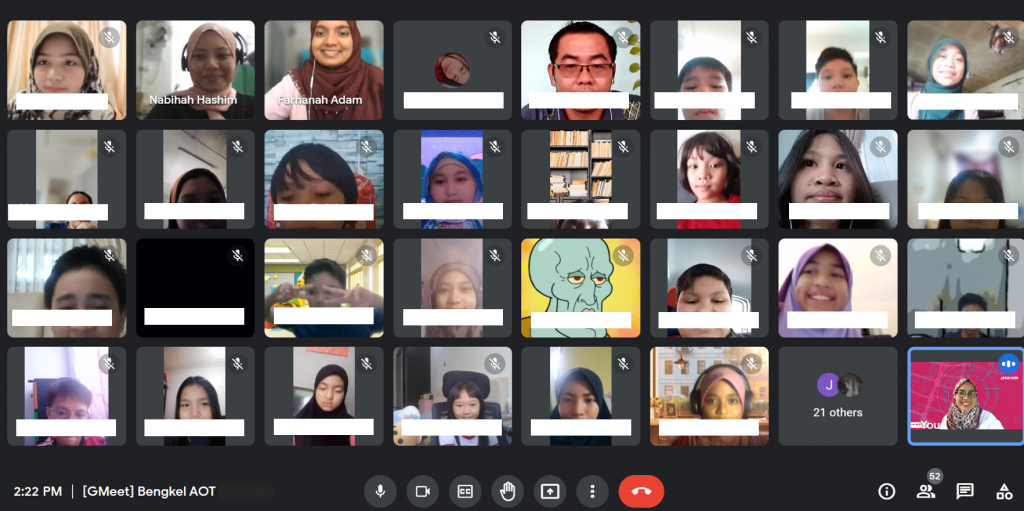 Agents of Tech also encourages students to seek knowledge beyond their classroom. We want to give students from different backgrounds the opportunities to explore, and have access to knowledge beyond school textbooks. Of course, it has got to be fun!
We ran a competition for students to solve real world problems by applying the knowledge they have learned. The Agents of Tech Female Innovation Icon saw 70 final video submissions and 11 winners selected from across Malaysia.
One of the winners, Agent Nur Qaseh Alissya from SK Seri Padang Sari noticed an ongoing issue with vaccination cards that the elderly need to bring. Quite a number of them do not know how to use digital gadgets or forget to bring their card. To combat this common issue, Qaseh thought of an idea to programme the vaccination record into their identification card to ease elderly folks' burden.
Another innovative idea was given by Agent Foong Sharlyne from SMK Katholik Petaling Jaya which is to create "Eagle AI" – a face recognition and eye ball movement detection technology to combat shoplifting. Not only that, Agent Nur Amniyyatul Zara from SK Pusat Chabang Tiga also came up with a brilliant idea to have a technology to scan vaccination status, temperature, medical history and travel history with iris recognition.
If one programme like Agents of Tech can spark so many ideas from young students, surely more progressive thinkers can be born with more tech programmes in the country. Check out the winners' videos at Arus Academy's YouTube or Agents of Tech website. I personally recommend you to see the excitement and passion in these students as they think of ideas to help the society through technology.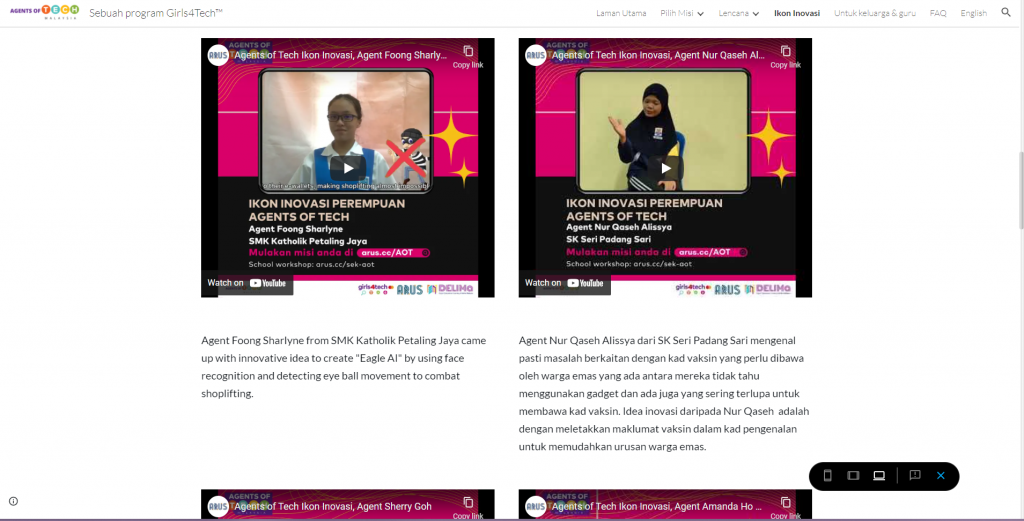 Early Exposure for a Better Future
I always believe that young students have so much potential yet to be unleashed. We need to encourage them to join programmes that can benefit them and also broaden their perspective towards career goal options. Agents of Tech is one of the programmes that can lead students to discover their passion and gives valuable exposure at an early age.
I do admit that 15 years ago if someone asked me what I would like to be, I often went with the typical career choices. I did not have the platforms to actually know there are so many other opportunities out there.
I also realized that the younger generation today are lucky to have resources and everything is available at the click of a button. It is time to think of a career beyond movies portrayal, standard templates of job forms and imagine endless possibilities of new career opportunities for our children.
Besides, I am sure there are many other job opportunities in the future that have not even existed yet. Technology is always advancing hence with the early exposure, students will be more equipped to choose when the time comes. No one is too young to think of who they want to be when they grow up because their childhood journey will lead them to become someone they dream of.
Visit Agents of Tech programme at https://arus.cc/AOT